A Majority of One (1961)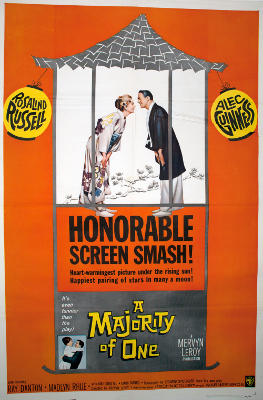 ---
Director:
Mervyn LeRoy
Starring:
Rosalind Russell, Alec Guinness, Ray Danton
Synopsis:
A Japanese widower and a Jewish widow meet on an ocean liner and together learn to overcome personal tragedy and the cultural divide between them.
Impressions:
I'll admit to some immaturity here. The prospect of Sir Alec Guinness playing a Japanese man amused me. Fortunately, there isn't any ridiculous yellowface makeup or embarrassing caricature, but Sir Alec doesn't even remotely resemble a Japanese person. I will give him credit for pulling off a passable Japanese English accent (the character's Oxford background lends some plausibility to Guinness' natural accent) and his Japanese sounds decent as well. I find it hypocritical to pontificate about racial tolerance and such and then not even cast a Japanese person as the lead male. (A number of commentators note that Sessue Hayakawa would've been a perfect choice for the role.) At very least, the character is treated with respect and if we're being fair, Rosalind Russell's characterization is fairly stereotypical as a Jewish mother but not bad by any means. Marc Marno's portrayal of the Japanese servant Eddie is far more cringeworthy. These objections start to melt away as a really sweet relationship develops between Mrs. Jacoby and Mr. Asano. It's a nice little romance which is rather touching. If you can look past the unfortunate casting choice, I think you'll agree that it's worth a watch.
Rating:
Watch It
---