Julius Caesar (1953)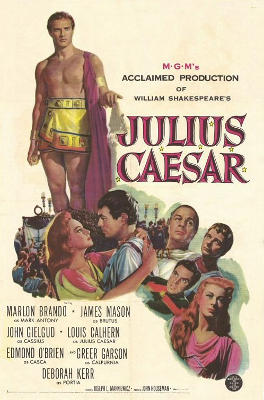 ---
Director:
Joseph L Mankiewicz
Starring:
Louis Calhern, Marlon Brando, James Mason
Synopsis:
Fearing the rising power of Caesar following the defeat of Pompey, a faction of the Roman Senate plots his assassination.
Impressions:
Shakespeare is often seen as the barometer for a person's acting chops. The task of bringing Shakespeare to the silver screen is often a bit of a dicey prospect. This production of
Julius Caesar
avails itself well with a good cast, costuming and set design. James Mason delivers a fine performance as Brutus, but I need to give particular credit to Marlon Brando as Antony, who positively
kills
it with the "Friends, Romans, countrymen" soliloquy. If you're a Shakespeare fan, this is film adaptation worth seeing.
Rating:
Watch It
---