The Man Who Shot Liberty Valance (1962)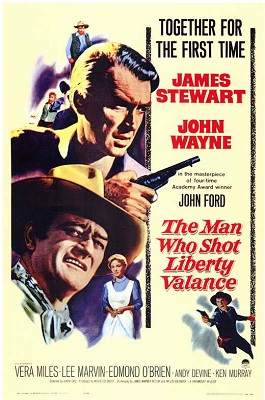 ---
Director:
John Ford
Starring:
James Stewart, John Wayne, Vera Miles
Synopsis:
At the funeral of a friend, a senator relates the truth behind the story that made him famous.
Impressions:
Can you believe it? A John Ford Western not shot in Monument Valley? It boggles the mind. The boxed-in feeling you get from being shot on a set actually works well here. While Jimmy Stewart's character conforms to the sort you'd generally expect him to play, John Wayne plays something of a deconstruction of the character type that made him famous and Lee Marvin makes for a delightfully scummy villain. There are also a couple of great large ham performances by Edmond O'Brien as Peabody and John Carradine in a one-scene wonder as Major Starbuckle. As you've noticed, there are a lot of big names in the cast and solid supporting characters by the likes of Andy Devine, Woody Strode and such. Other than the fact that it plays with the big lie as a plot element, it's a fairly standard Western, albeit a rather good one. I hear John Ford was particularly incorrigible during this shoot and I credit the cast for weathering the storm and not bearing any grudges against each other when he tried to spark conflicts among them. If you're a fan of Ford, Westerns or any of the principle cast members, this is well worth seeing.
Rating:
Watch It
---