Song of the Thin Man (1947)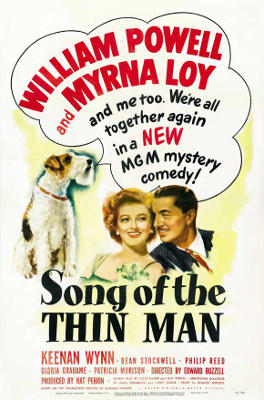 ---
Director:
Edward Buzzell
Starring:
William Powell, Myrna Loy, Keenan Wynn
Synopsis:
When a band leader is murdered on a gambling boat, it's up to Nick and Nora to solve the case.
Impressions:
This is the final entry of the Thin Man series and the last onscreen pairing of William Powell and Myrna Loy. You really want to see them go out with a bang, but this is invariably the weakest entry in the series. It's a so-so mystery case with very little humor--very little effective humor at least--and doesn't afford much opportunity to really showcase the Powell-Loy chemistry. It's watchable and it won't be a chore for any completionist wanting to round out the series, but the charm has mostly faded by this point and probably wouldn't be much remembered strictly on its own merits. Take it or leave it.
Rating:
50/50
---