Hamlet (1948)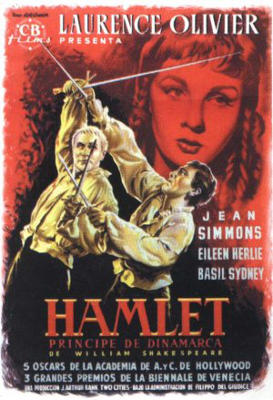 ---
Director:
Laurence Olivier
Starring:
Laurence Olivier, Jean Simmons, John Laurie
Synopsis:
The brooding prince of Denmark plots to avenge his father's murder at the hands of his uncle.
Impressions:
Anyone invested in Shakespeare and film likely knows of this movie even if they haven't seen it themselves. It's rightfully known as one of the best-regarded film adaptations of the play. Naturally, Laurence Olivier is amazing in the titular role. The rest of the cast is all good, but I want to give a particular nod to Felix Aylmer as Polonius and Peter Cushing defying my expectations of him for a very camp Osric. If you've got sharp eyes, you'll catch Christopher Lee as a spear carrier. Costuming and sets are good but the camera work isn't anything special (which isn't that big of a deal for an adaptation of a stage play but really stands out in comparison to more dynamic film adaptations of Shakespeare). This one is well worth watching and I highly recommend it.
Rating:
Watch It
---